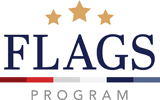 We have great respect for the service and sacrifices of the men and women who serve in our nation's military, and we are proud to provide specialized support to members of the military community when their lives are impacted by mental and/or behavioral health concerns.
Program Overview
FLAGS Military Support Program
Longleaf Hospital's Forgiving Losses and Gaining Strength (FLAGS) program was specifically created for active-duty military, active reserve, retired military personnel, and active-duty dependents. This program supports individuals in need of professional mental health and/or chemical dependency treatment services. The average length of stay in the FLAGS program is 30 days.
The FLAGS program is a comprehensive, stand-alone treatment program that reflects the impact that combat and deployment can have on individuals and families. This program offers a unique healing environment that affords military personnel and their families opportunities to learn new ways of managing the stress associated with military life.
View a tour of our facility and FLAGS unit here.
Military-Related Disorders We Treat
Addictions and mental health disorders treated in the FLAGS program at Longleaf Hospital in Alexandria, LA
When you engage with the FLAGS program at Longleaf, you'll find that our staff understands the unique challenges you've faced. Of course, no two individuals arrive at our hospital with the same needs or experiences. But we know that there are certain situations that one might only encounter as a member of the armed forces, and we've built our treatment programming to reflect that. Sometimes these difficult experiences can exacerbate substance abuse and/or mental health concerns, and can include the following:
Strain due to combat stress
Family separation
Exposure to trauma and destruction
Witnessing human suffering
Threats to self or fellow combatants
Issues related to grief and loss
FLAGS Services & Therapies
Services and therapies offered in the FLAGS Military Support Program
If needed, the FLAGS program provides a brief and effective detoxification service that is monitored 24/7 by our qualified medical staff. During this phase of treatment, participants receive personalized care and medications to reduce their discomfort. Using detox to cleanse your mind and body of harmful substances can help you make the most of our extended rehabilitation program.
The FLAGS inpatient treatment program consists of personalized treatment services that address psychiatric and chemical dependency concerns that are unique to members of our armed forces. The program is conducted under the direction and supervision of a licensed psychiatrist 24 hours a day, seven days a week. The types of treatment modalities used within the FLAGS program will vary based on the needs of our current population, but may include:
12-Step programming
Dialectical behavior therapy (DBT)
Art therapy
Yoga
Eye movement desensitization and reprocessing (EMDR)
Cognitive behavioral therapy (CBT)
Individual therapy
Family therapy and education
Recreation therapy
Development of coping skills
Medication management / education
Integration and coordination with primary care providers
A key component of the FLAGS program is group therapy, which allows participants to give and receive support in a safe environment. Groups may cover topics such as grief, coping skills, symptom management, family dynamics, feelings, anger management, stress reduction, and relaxation techniques. Some examples of commonly offered groups within the FLAGS program include:
Goals group
Social skills group
Recreation therapy group
Mental health activity group
Wrap-up group
Learn More